Household: Disinfecting Wipes Canister Citrus Blend by Clorox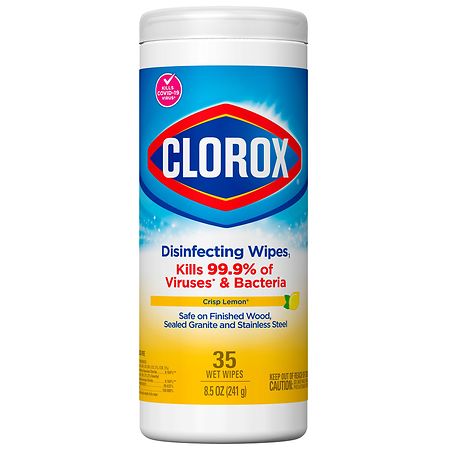 Price – See the Lowest Price
Manufacturer: Clorox
Category: Household
Disinfecting Wipes Canister Citrus Blend Description:

– Tough Cleaning In A Thick Wipe.
– Use To Clean Bathroom Surfaces, Telephones, Computers, Child's Room And Kitchen Surfaces.
– One Step Cleaning And Disinfecting.
– Quick And Easy Kills Cold &Amp; Flu Viruses* Disinfects Households Kitchen And Bathroom Bacteria** Kills 99.9% Of Bacteria In 30 Seconds*** Bleach And Phosphorus Free Wipes Measure 7" X 8" (17 Cm X 20 Cm) *Influenza A2, Rhinovirus Type 14 **Escherichia Coli O157:H7 (E.
– Coli), Streptococcus Pyogenes ***Klebsiella Pneumoniae, Staphylococcus Aureus (Staph) Made In Usa
Return policy of Walgreens.com: Products may be returned either to a store or by mail within 30 days of purchase and must be accompanied by the original receipt included with the shipment.
Click here for more information
Leave a Review about Disinfecting Wipes Canister Citrus Blend Comments