Personal Care: Fresh Breath Lozenges Mandarin Mint by TheraBreath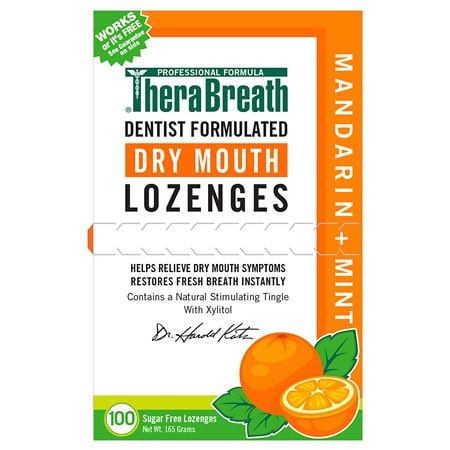 Price – See the Lowest Price
Manufacturer: TheraBreath
Category: Personal Care
Fresh Breath Lozenges Mandarin Mint Description:

– Stops Bad Breath: These Lozenges Are Effective In Eliminating Bad Breath, Including Strong Food Odors Such As Garlic And Onion, Morning Breath And Smoker's Breath.
– Taking Some Prescription Medication Can Make Your Mouth Extremely Dry.
– Helps Relieve Dry Mouth: Our Citrus Lozenge Is Guaranteed To Relieve Dry Mouth Symptoms When Used As Directed.
– Many Doctors Recommend Using A Sugar Free Lozenge To Help Your Mouth Produce More Saliva.
– Pop One After A Meal Or Whenever Your Mouth Tastes Unpleasant Or Feels Dry.
– Perfect On The Go: Grab A Few Individually Wrapped Lozenges To Take On The Go.
– Advanced Xylitol Formula Approved For Diabetics Kosher Not Intended To Diagnose, Treat, Cure, Or Prevent Any Disease.
Walgreens.com return policy: If you are not satisfied with your purchase, products may be returned either to a store or by mail within 30 days of purchase and must be accompanied by the original receipt included with the shipment.
Click here for more information
Leave a Review about Fresh Breath Lozenges Mandarin Mint Comments